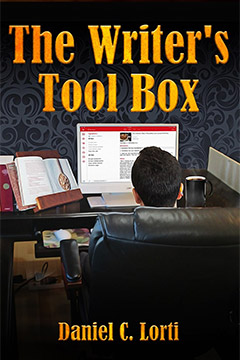 The assertions of the book's value stem from the experiences of this author. Besides having novels in three genres, I have written in a other mediums including a play, movie scripts, and social media. The Writer's Tool Box presents a new approach to writing that avoids the pitfalls of extensive and laborious searching, empowering the reader with the ability to understand every facet connected with concept, research, writing, publishing, and publicity. It provides poignant essays to provide a guide to a new and exciting writing pastime. In its pages, a literary agent reveals their criteria for responding to a query letter.
The Writer's Tool Box imparts information amid stories and examples to uniquely illustrate the process to launch or sustain a writing career. Cover to cover, many of the aspects of the writing craft are featured and intermingled in an orderly fashion from the start of the work to its completion and beyond. The chapters follow an organized structure from disclosing basic requirements such as starting with a theme or premise to an outline forming the framework of the writing. You may lack a knowledge of the writing craft but rest assured the rudiments will be acquired well into your manuscript.
THE WRITER'S TOOL BOX is at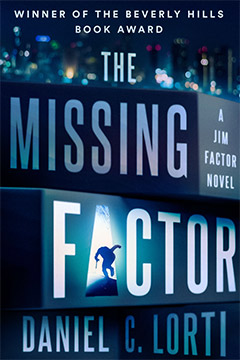 A Jim Factor Novel
Winner of the Beverly Hills Book Award
A phone call warning of impending death
Decisions involving escape and acquiring lethal skills
Confrontations with a hope of surviving to regain a former life
Jim Factor, a successful arms dealer with U.S. and Europe clients and Middle East customers, accepts a consulting contract for an illicit arms deal. One of the principals, a Russian mafia affiliate, wrongly assumes Factor is responsible when it's uncovered and orders him killed. Forced to flee to San Francisco to protect his family, he vows to regain his former life. He first must acquire an identity, then skills to become an avenger while being hunted by a persistent private investigator hired by his wife, and a Russian mafia hit team. He is determined to retaliate and acquires two lethal friends. Gun battles, cunning, direct action, and past experience may not be enough to survive or redeem himself.
THE MISSING F_CTOR: A JIM FACTOR NOVEL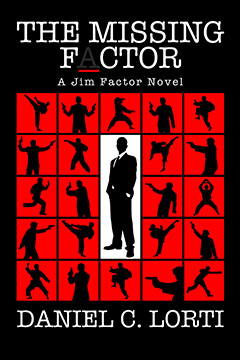 Jim Factor is a successful arms dealer living in Southern California with clients in Europe and customers in the Middle East. A recent client, Carlos Sengretti, phones Factor and tells him he is marked for death due to their discovered illegal arms deal by Mikhail Borichov, a Bulgaria arm dealer.
Factor barely escapes to San Francisco where he starts a new life with a new identity. His distraught wife Diane hires Adam Weatherly, a cunning and relentless private detective who tracks Jim to San Francisco and is in turn followed by Borichov's Russian mafia hit team. Factor finds work at a marina prepares for an eventual confrontation learning martial arts and Spanish, and acquiring counterfeit ID. He becomes friends with Chris Muncie, his martial acts instructor.
Weatherly uncovers Factor's new passport identity and finds him. Borichov flies to San Francisco and gets directly involved with his hit team who is trying to find Factor. Jim, Chris and Weatherly soon come together and confront the Russians in a bloody gun battle on Alcatraz Island where Borichov and the hit team are killed. Factor discovers he's still in danger and flees to Spain. He seeks closure by meeting with Dimitri Federov, the Russian mafia head, who places him in charge of Cortex, Borichov's former Bulgarian arms company. In Bulgaria, a Russian mafia territorial dispute places Factor in another gun battle where he must fight with Chris, Adam and Federov at his side to not only survive but have a chance to regain his former life.
Buy THE MISSING F_CTOR at
THE BUSINESS END
Follow-On to the Beverly Hills Book Award Winning, The Missing F_ctor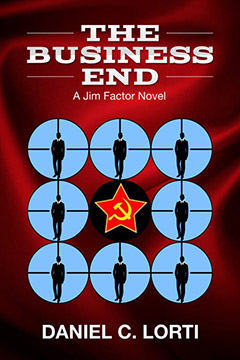 A Jim Factor Novel
Obligated to a Russian mafia organization, targeted by another,
The USAF Intelligence Agency is investigating his activities,
A complicated scam to postpone a mafia war in Moscow leading to death.
A return to normalcy is not in the future
Jim Factor was a successful arms dealer until an ill-advised decision to consult in an illegal arms transaction. The fallout was estrangement from a former life by a commitment to a Russian mafia boss, Dimitri Federov, to head an arms manufacturing company in Varna, Bulgaria. Subsequent events led to his release from the obligation but at home, Factor and wife, Diane, are targeted by a rival mafia organization which brought him back to Bulgaria. Now, he is caught up in a mafia conflict and worse, the Russian Federation Security Bureau, the old KGB, has become involved. Because the Russian Federation President will not tolerate any open hostilities, Factor and Federov conceive a complex scam to forestall the rival's actions while striving to increase the company's business. Sooner or later, the rival mafia will discover the ruse and marshal forces against Federov who is determined to avoid any overt aggressive retribution. It is a tightrope act whose success hangs on deception and timing.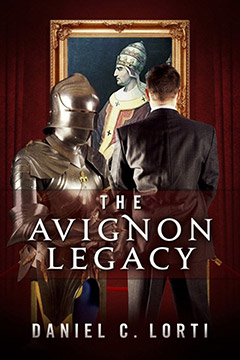 Two inventive and audacious men separated by 700 years
One incomparable treasure, hidden for centuries
A legendary mystery waiting to be solved
Though born a peasant in the middle of the 14th century, Jean Termonde's intelligence and courage enables him to rise above a peasant's station to become a knight. Brought to the notice of a high-ranking Cardinal, Sir Jean's new position is to provide security for the Papal city of Avignon, France with the vast treasury at the Palace of the Popes. When the Pope decides to move the Papacy back to Rome in 1377, noting the treasure is at risk in the chaotic time following the decision, the resourceful Sir Jean devises an ingenious hiding place until it can be safely transferred to the Vatican. The treasure never arrives in Rome.
Rare book dealer Jim Pierce expertise is in tracking down and retrieving old volumes coveted by well-heeled clients. He has little interest in the French Middle Ages until two armed thugs enter his bookstore demanding an ancient 14th century volume on the Avignon Papacy which alludes to the Church's treasury. Pierce sets out to attempt two thefts; the volume from the Vatican, and the treasure from Avignon. It soon leads to a situation where a master criminal, New Scotland Yard, and the French police have taken an interest. Pierce's options are few and will require deception, technology, and timing with no guarantee of success.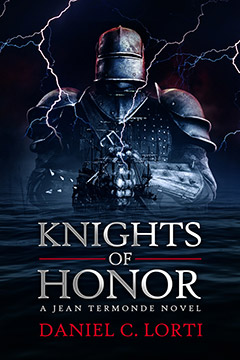 A Jean Termonde Novel
Another in the popular Medieval Ages series when two knights take on different paths which depend on decisions requiring discipline, daring, and danger for survival
Two French knights accept a request from the French crown to use their past interaction with the Avignon popes to persuade the present papal leader to pay taxes. Their success leads to a French trade mission to Italy with the leaders of the city-states. Upon return, Sir Maurice was follows in his father's footsteps as the mayor of a French city. Sir Jean is nominated for the role of French ambassador to Italy stationed in Rome. In his unique and intuitive fashion, he becomes embroiled with dangers and intrigues: Italian city-states vying for territory, a battle royal for control of southern Italy led by an Avignon pope-sponsored French force, the war with England, and the pirate threat in the Mediterranean. He obtains assistant from dashing English Captain Nathaniel Axe turned pirate; a legendary mercenary named Sir John Hawkwood; a senior Roman cardinal; and a spy in training.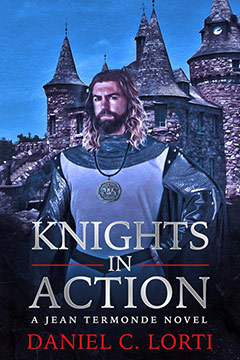 A Jean Termonde Novel
Duke Jean Termonde, French Ambassador to Italy, in a search for information pertinent to French interests found a northern Italian city-state preparing territorial expansion among warring cities, a rouge Roman pope with designs on an Italian kingdom, and a French invasion of southern Italy sponsored by the Avignon antipope. Seeking timely information meant putting himself in danger and initiating a spy network operating out of the embassy. Friendships with the mayor of Arles, a French privateer, city-state rulers and a Vatican cardinal were fraught with adventure and danger. A twist of fate moved him into a dangerous situation with the English enemy in the middle of a coup d'état and the Hundred Years' War.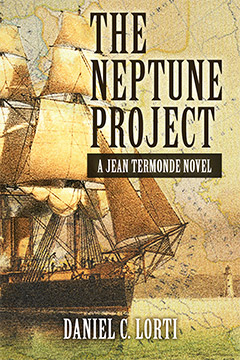 A Jean Termonde Novel
Four audacious men join together in a venture for risk and reward
The accomplishment is fraught with unforeseen perils
The outcome depends on their ability to counter with ingenuity and luck
It's the 14th Century, the Medieval Age, where people believe they live on a flat earth and only twenty-five percent of the earth has been discovered. Four adventurous men undertake the challenge of building of an armed merchant ship, the Neptune, three times larger than any of the day with a vast hold capacity to trade in Asia and compete with powerful Venice for the prized wealth of the East. They will encounter the sea power of Venice who will attempt to capture or sink the intruding Neptune vessel, and the ambitious Spanish navy who covets the ship to increase sea dominance and will field a fleet of warships to intercept and take possession of the ship. They must find a way to even the odds in each battle to counter the treachery and greed of the two formidable threats with the potential outcomes fraught with deadly consequences.
THE NEPTUNE PROJECT IS AT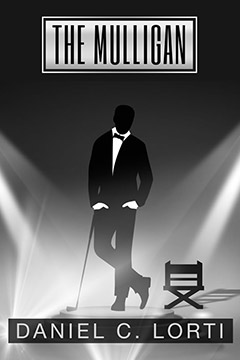 A has-been golf instructor with a history of wasted opportunities is asked;
If you could do it again, would you?
Could he possibly alter the former circumstances of his life?
Michael Callahan broke and depressed, with a history of missteps, walks into a bar. He encounters an old woman who asks; if you could do it again, would you? He will retain his memories but in time they will fade. He accepts and finds himself back at his first college year attempting to alter the course of his life. His deliberate changes will place him on an altogether different direction with unexpected choices. He establishes a new successful career, creates friendships, and acquires a family. In his later years, he loses his savings and livelihood. In a similar situation he again encounters the old woman. Once again, the question is posed. This time the answer is not so obvious and his decision will depend on whether it was his life or the man that changed.
An Interview with Bobby Jones Jr.
A Theatre Play by Daniel C. Lorti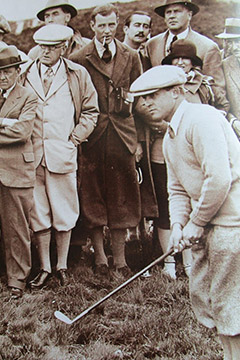 The two-man play centers about an interview that takes place in early April 1948 at the Augusta National Golf clubhouse in Augusta, Georgia. The interaction features two notable figures in the sports world: The Interviewer is O.B. Keeler, veteran sportswriter, Atlanta Journal, and Bobby Jones, Jr.'s close friend and first biographer. The interviewee is Bobby Jones, Jr. who at 46 years old is a retired professional golfer, former lawyer, and prolific golf writer, whose golfing achievements are legendary.
The life of a golf elite is presented in a candid yet humorous and ironic format that provokes both awe and compassion at his journey to the top of the sports world. The play establishes a new benchmark for a theatrical conversation about the agony and ecstasy of a life where golf claimed another short-lived champion.